Sachiho Watanabe Sachiho Watanabe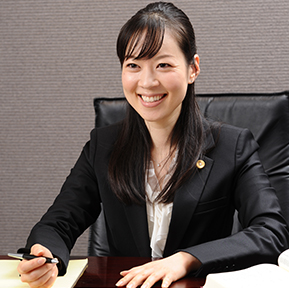 All of you, nice to meet you.
We claim to be Sachiho Watanabe (watanabesachiho) of lawyer
In December, 2012, we transferred from law office of Shizuoka and became member of our office.
 We visit uneasiness and trouble that all of you have as much as possible to be able to leave civil case, criminal case in peace together and cope with each one facing carefulness.
 We make an effort to be able to plan the best solution that accepted each situation as appropriate solution varies according to cases. Please feel free to contact by any problem.
Career
Educational background
shiritsuyokohama*yokotogakukosotsugyo
Ochanomizu University home economics department graduation
We are a graduate from Keio University law school (legal affairs doctor)
Work experience
December, 2011
December, 2012
Green joint law office entrance
Marunouchi soleil law office entrance
Seminar / event, the media publication results
Labor seminar "pit of indefinite switch rule"
Date August 29, 2017
Scheme, teacher, Sachiho Watanabe
Weekly diamond "indefinite switch rule" special feature commentary
Publication day December 2, 2017
Publishing office Daiyamondosha
About labor lecture "indefinite switch rule"
Date April 13, 2018
At general meeting of local bank human resources business workshop