Kenichiro Saito Kenichiro Saito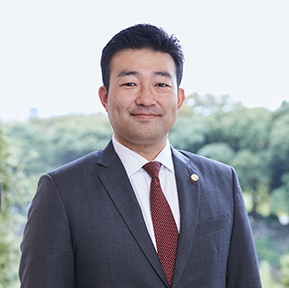 Nice to meet you
We are Kenichiro Saito (saitoukenichirou) of lawyer.
We have relationship and will have member of our office increase.
As well as criminal case, we experienced a large number of items such as compliance, company legal affairs in central government offices or foreign-affiliated financial institution since we began to walk way of bench and bar as prosecutor in 2003 and loaded study while having warm support from many people.
Even if it is any item, we always stand in situation of visitor and wrestle faithfully and will make an effort zealously in future to be able to get the best result.
We hope that we have instruction of all of you, encouragement.
Career
Educational background
March, 1994
March, 1998
March, 2010
Fukushima Prefectural Azumi Senior High School graduation
University of Tokyo department of science biochemistry department graduation
The National Personnel Authority for a short term overseas training
Researcher Georgetown Washington University honorary member
Work experience

October, 2003

May, 2011 November, 2011 July, 2013 January, 2014
April, 2016

We work in Tokyo District Public Prosecutors Office, Osaka District Public Prosecutors Office crown side, trial department (part for cess), Mito District Public Prosecutors Office, Chiba District Public Prosecutors Office, Fukushima District Public Prosecutors Office
Tokyo District Public Prosecutors Office special investigation department financial economic person in charge
With Ministry of Defense defense inspection headquarters unification supervisor
With Ministry of Justice Criminal Affairs Bureau
Citibank Bank compliance section Vice President
Marunouchi soleil law office entrance
The seminar results
You should do what for reliability improvement of food information (the outside) or
Date Tuesday, July 10, 2017
Association of sponsorship non profit organization Japanese medical writer
Yasuo Ohashi (Chuo University department of science and engineering's professor, University of Tokyo's emeritus professor) such as lecturers
Sachihiro Aida (National Institute of Health Sciences medicine manager)
Hiroshi Kamioka fine weather (Tokyo University of Agriculture's professor)
Mitsuru Morita tree (consumer life consultant)
Kenichiro Saito (lawyer)
The present conditions and measures (the outside) of advertising regulation
Date Thursday, June 25, 2017
Sponsorship information mechanism
As for the lecturers, it is Lawyer Kenichiro Saito
Business (the outside) of advertisement expression for functional indication food, cosmetics sale
Date Wednesday, April 19, 2017
As for the lecturers, it is Lawyer Kenichiro Saito
Sponsor international pharmaceutical products development exhibition (UBM Japan)
The present conditions and measures (the outside) of advertising regulation by the medicine machine method, Illegal Demonstration Prevention Act, Health Promotion Act, Specified Commercial Transactions Law
Date Wednesday, February 15, 2017
As for the lecturers, it is Lawyer Kenichiro Saito
Sponsor health exhibition (UBM media)
The present conditions and measures (the outside) of the medicine machine method, Illegal Demonstration Prevention Act violation
Date Wednesday, December 7, 2016
As for the lecturers, it is Lawyer Kenichiro Saito
Sponsor Nihon Ryutsu Sangyo newspaper publisher
Point to keep in mind (the outside) of indication, advertisement
Date Friday, October 7, 2016
Makoto Tanaka (Consumer Affairs Agency indication measures section food indication examiner) such as lecturers
・・・ ・ Kenichiro Saito (lawyer)
Sponsor food development exhibition (UBM media)
About problems concerning premium notation, invention of use system of food (the outside)
Date Tuesday, September 13, 2016
koshitokichimonsaori (Patent Office Coordination Division examination standard room)
・・・ ・ Kenichiro Saito (lawyer)
Institute for sponsor product indication others
Medical advertisement seminar, latest information of new regulation
Date Wednesday, September 28, 2016
As for the lecturers, it is Lawyer Kenichiro Saito
Sponsor Marunouchi soleil law office
To carry out stress check for responsibility, security of enterprise called into question (the outside)
Date Tuesday, September 6, 2016
Lecturers Kimiko Honda (clinical psychologist person)
・・・ ・ Kenichiro Saito (lawyer)
Sponsor aurapsychology education center and others
Premium notation and surcharge system, the prospects (the outside) of functional indication food
Date Thursday, June 23, 2016
koshitojidenkiichi* (RCT Japan's representative director)
・・・ ・ Kenichiro Saito (lawyer)
Sponsor RCT Japan and others