Eisuke Miyanishi Eisuke Miyanishi (the first Tokyo bar association)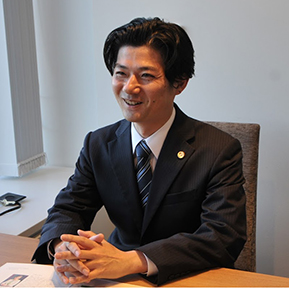 Nice to meet you.
We are Eisuke Miyanishi (we see and make nicotine Eisuke) of lawyer.
We have relationship and will have member of Marunouchi soleil law office increase.
Speed of technological change in in recent times is extremely early,
Regulation by laws and ordinances is becoming extensive and complicated with it every day, too.
We will carry out days that and flexibility copes with various also complicated legal questions to accrue every day quickly in such modern society while always putting antenna for technical progress and social change.
We hope that we have your instruction, encouragement.
Career
Educational background

Waseda University Honjo Senior High School graduation
We are a graduate from the Waseda University law department (Bachelor of Laws)
Waseda University Graduate School law graduate course completion (Legum magister)
Waseda University Graduate School legal affairs graduate course graduation (legal affairs doctor)

Work experience
September, 2011
January, 2016
February, 2018
Medical system venture company duty
Tokyo law office entrance
Marunouchi soleil law office entrance
Bar association activity
2016
2016
2016
First Tokyo bar association IT method study sectional meeting
First Tokyo bar association medical affairs method study sectional meeting
Detective of first Tokyo bar association defense Committee citizen judge trial sectional meeting
Seminar / event, the media publication results
It is legal aid service by Happy TsuNaGu collection
Date March 31, 2018
Sponsorship en system to tie
It is legal aid service by lease management fair of doctor
Date May 12, 2018
Sponsorship doctor. com
It is legal aid service by rental houses and apartments fair
Date June, 2018 12.13 days
Sponsorship whole country rental houses and apartments newspaper publisher