Yoshiko Iizuka Yoshiko Iizuka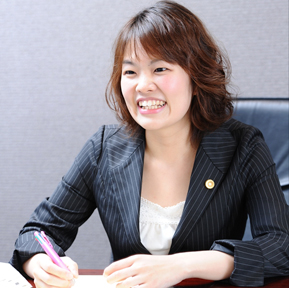 All of you, hello.
We claim to be Yoshiko Iizuka (we spread Iizuka) of lawyer.
There was relationship and became member of our office from May 1, 2014.
When all of you were involved in some trouble, how do they have?
At first we wait still for mere time talking with person reliable investigating cause by own power passing…We think that there are nado, each solution.
In any case we seem to spend totally big "baggage" in spite of being employee every day when we have trouble and may be fatigued mentally physically.
It is the lawyer to us to work as maid solving your such trouble from the legal side.
Trouble cannot be settled only by law in fact.
Investigate uneasiness, fear, cause of question that all of you have, and is you in spite of being thought what the best solution that put together in the each person's situation is finally; "assent (reconciliation may be sometimes necessary, too.) "Thing that we can make into leads to true solution.
Therefore we act while my listening to story of one that had you talk slowly and carefully, and doing advice that stood on past experience and knowledge to be able to investigate beginning of trouble solution together.
When "baggage" was wanted to lighten even a little, we may help. Please go to visit our office by all means.
Career
Educational background
Osaka Prefecture Univ. this side High School graduation
University of Tokyo liberal arts education synthesis social studies subject correlative social science graduation
University of Tokyo law school graduation
Work experience
December, 2012

January, 2014
May, 2014

As the lawyer to staff of judiciary support center in Japan (law terrace), we assign law terrace Tokyo law office (we train in Tokyo yumanite law office)

Law terrace Tama law office assignment
Marunouchi soleil law office entrance
Seminar / event, the media publication results
Family trust seminar "NG as for "" which we do not know you who are professional of real estate"
Date November 21, 2017
Scheme, teacher, Yoshiko Iizuka, Masayoshi Chiya, matsuyashitaridai, Satoshi Inaguma