Masayoshi Chiya Masayoshi Chiya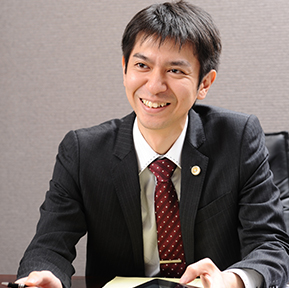 All of you, nice to meet you.
We claim to be Masayoshi Chiya (chiyamasayoshi) of lawyer.
After having become lawyer in December, 2008, I worked in another office in Tokyo, but there was relationship, and it was member of our office from February, 2012. In office in front, we were concerned with various items from company-affiliated consultation, dispute processing such as life insurers to loan return and legal trouble of personal various places such as traffic accident or other claim for damages.
If it is just good why or is in that we do not know in the face of trouble that there is not of experience so far, as for all of you who can come to lawyer for consultation, process, thought to reach visit to an office including person not to be able to have conviction in the validity of thing thinking about thinks that we can deal for oneself that various. We think that we want to help sincerely that I stand on thought, conventional experience together after at first having heard story of consultant well where the basic cause of uneasiness, question that all of you hold is and can solve best, the best that accepted each situation.
We think that all of you have doctor examine routinely if we catch cold, but question of law resembles a cold and is to be serious unexpectedly when we leave and aggravate. We think that you can talk with feeling so as to consult doctor of town casually and early by any chance when we face annoyance.
Career
Educational background
March, 1999
March, 2005
March, 2007
Mt. Tachido, Tokyo Senior High School graduation
We are a graduate from the University of Tokyo law department (Bachelor of Laws)
Capital University Tokyo law school completion (legal affairs doctor)
Work experience
December, 2008
October, 2012
Ocean general law office entrance
Marunouchi soleil law office entrance