Eiichiro Abe Eiichiro Abe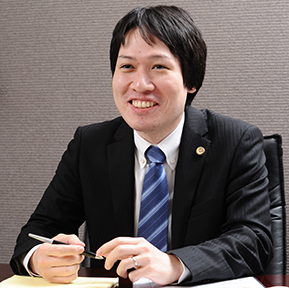 Nice to meet you, we claim to be Eiichiro Abe of lawyer.
On July 21, 2010, we transferred from other law offices in Tokyo and have begun to work in this office. It is opinion of client and to make an effort after having heard as far as we can talk to solve trouble and problem of client and, in the same way as lawyer who is in this office, would like.
Anyone wants to be settled with client about problem that we may have, but thinks that we want to do appropriate advice and solution to the problem after having stood on way of thinking on the assailant side as there is agent experience on the assailant side about traffic accident in particular.
Thing that becomes unstable mentally when person has problem think that may become emotional. As you think that it may be settled down mentally by talking with lawyer at such time, at first please contact our office in such a case.
Career
Educational background
March, 2000
March, 2004
March, 2006
Chiba private institution Makuhari Senior High School graduation
We are a graduate from the Waseda University law department (Bachelor of Laws)
Legal affairs graduate course (law school) graduation (legal affairs doctor) specialized in Chiba University Graduate School
Work experience
December, 2007
July, 2010
Law office entrance in Tokyo bar association registration Tokyo
Marunouchi soleil law office entrance
Bar association activity
Other public interest activities

April, 2008

July, 2010

Tokyo bar association consumers special committee training committee (... March, 2009)

Tokyo bar association 21 society position