About product sales sale and advertisement expression of medical institution, we held seminar
In event "wellness food Japan started on July 25 in Tokyo Big Sight for three days," lawyer of health & beauty section of our office gave a lecture on "legal precaution when medical institution performed product sales".
A lot of companies which this "wellness food Japan" is exhibition that featured the theme of "we join meal and health together", and develop wellness business such as health food, natural foods are exhibition. Our office exhibited booth, too and carried out free legal aid service, and lawyer held seminar in special venue.
In our office, we held seminar as object about advertisement expression toward company and the clinic, but we mention "precautions when medical institution performs product sales" this time and explain until now. We had you gather toward the situation with each seminar held for three days.
Above all, we have you participate a lot toward the medical institution and give thanks on this occasion.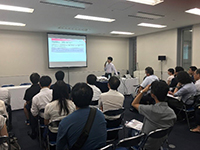 Seminar scenery by lawyer Eisuke Miyanishi. We had you listen to all of you eagerly.