We exhibit for healthy exhibition for three days from January 31
For from Wednesday, January 31, 2018 to Friday, February 2, "healthy exhibition /FOOD PRODUCE JAPAN" is held in Tokyo BIC site.
This event is health industry highest possible business trade show that featured the theme of "extension of healthy life expectancy", and, secondary to last year, our office exhibits booth, too.
In booth, we carry out legal aid service by lawyer and hold seminar by position lawyer.
Theme of seminar when "do not know scary advertising regulation."
Health, advertisement expression that beauty-related proprietor usually uses casually at flyer and brochure, the Web top explains in light of pertinent law such as the Illegal Demonstration Prevention Act and medicine machine methods clearly whether there is not problem as expected.
In addition, bemmamorishinari*kai of our office does going on the platform (paid 3,000 yen) for sponsor seminar titled "the current situation and measures of advertising regulation by the medicine machine method, Illegal Demonstration Prevention Act, Health Promotion Act" on January 31.
The details are as follows.
The date and time: From Wednesday, January 31, 2018 to Friday, February 2 from 10:00 to 17:00
Place: Tokyo BIC site west 1, 3.4 hall & atrium
Entrance fee: 3,000 yen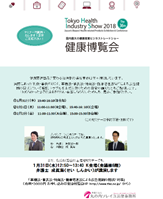 …If can register in advance on homepage; no charges for admission
…Advanced registration is this