Booth exhibited for real estate fair
We performed legal aid service by HAPPY TuNaGu collection
"HAPPY TsuNaGu collection 2017" for all of you concerned with real estate, finance investment was held at Cerulean Tower Tokyu Hotel on Sunday, November 26, and our office performed free legal advice in booth, too.
This event is started at lease management for the first time this time to suggest asset operation, lifestyle, and various companies such as real estate broker, the investment operation work participate. It was arrived to venue approximately 3,000 customers. Lectures by Taizo Sugimura of Toru Hashimoto, former member of the House of Representatives of the Mayor of Osaka cause were carried out and showed serious upsurge.
Our office sets up "free legal aid service booth". At first, "why law office for such an event surprised at in exhibiting" came, but, by contents which were wide from the inheritance to real estate management, had consultation more than ten.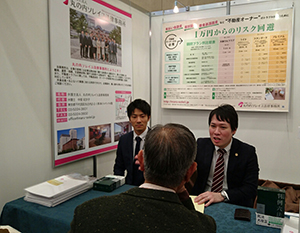 ※Abe (the right) and Miyamae (the left) of lawyer corresponding to consultation
Real estate and asset succession, succession of a business, wide advisor contract plan including company legal affairs prepare in our office. Which talked which was concrete "which is recommended to advisor contract for real estate owner though we ran apartment?" came in customer who came to consultation.
We will tell through homepage and e-mail magazine on this occasion in future as we are going to participate in such an exhibition positively. We are looking forward to being able to see all of you in venue. Please come for consultation casually.